AMS Student Nest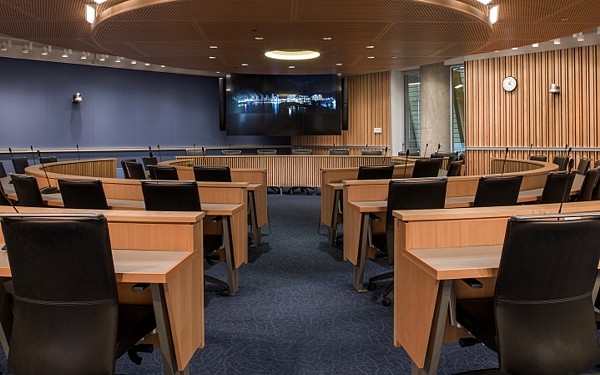 We provided AV system design services to the Alma Mater Society at UBC and UBC Properties Trust for the construction of the new student union building, called The Nest. The building is owned by the student association and houses the administrative functions and activity spaces for the Student Union; including the Michael Kingsmill Forum, club rooms, 40 bookable meeting rooms and activity spaces, the Great Hall, a unique suspended black box performance space in the atrium, an art gallery, plus food service spaces across three floors, and the Pit pub in the basement.
The Michael Kingsmill Forum on the fourth floor has a conference audio system, with shared microphones for pairs of council seats and a microphone per seat for the head table. There is a large video screen at the front for presentations, and a confidence monitor at the rear of the room. There are three robotic cameras that allow the council meetings to be shared with the combinable rooms on the second floor, or recorded/streamed. The cameras automatically track active microphones.
The bookable spaces have central management of the AV systems and room booking, with local button panels or touch panels in each space. The Great Hall is the largest room, capable of a 1/3-2/3 division, it can be used as two rooms or a single large combined room, and is equipped with a high quality audio system and video projection display system. There are other standalone and combinable rooms on the second floor as well, all with high quality ceiling speakers and projection that can be used to support one large conference event or numerous smaller events.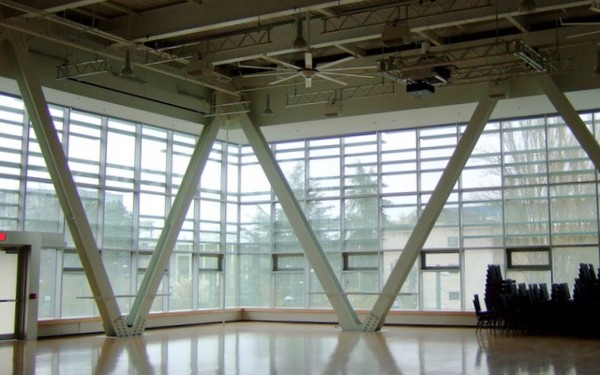 There are also numerous small meeting rooms each equipped with a button panel and a flat panel display, also sitting on the AV central management network.
The Hatch Art Gallery has a local sound system zone but can also be combined with the other large conference events.
The Performance Theatre has a standalone AV system that can also be linked to the central AV control room so it can be used for overflow or as part of a large conference event.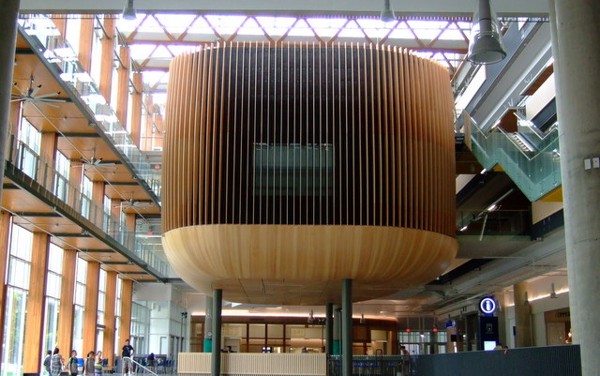 There is a separate dining establishment on the 4th floor called the Gallery 2.0 with a local sound system zone.
The Pit pub is located in the lower level with a local sound system zone, video displays and a separate stage live sound system.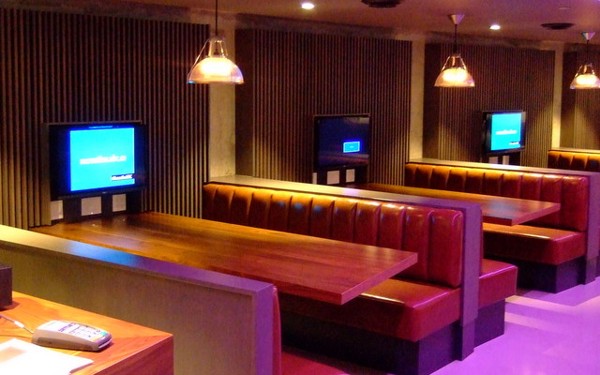 There is a networked audio paging system, allowing paging to separate floors or event spaces, and an overall notification system, with paging stations in three separate locations. The general paging can be blocked in event spaces, but priority pages over-ride all local audio.
For more information visit the AMS Student Nest website