Scotiabank Dance Centre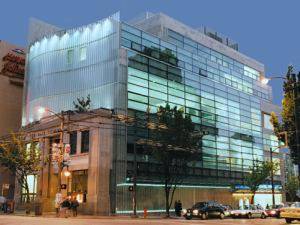 The Scotiabank Dance Centre is a project that blends old and new. Built within the footprint of a 1920's Bank of Nova Scotia building, and retaining the original entrance facade (complete with ATM terminal), this building combines 5 dance studios of various sizes and a large rehearsal/performance studio that is the same size as the Queen Elizabeth Theatre stage to enable Ballet BC to develop stage blocking. The land was donated by Scotiabank, and the building was built by the Vancouver Dance Foundation. The architect was Arthur Erickson working with Architectura. We provided acoustical design services for the building.
The building was built and owned by a non-profiit organization so the challenge was to provide the maximum available acoustical performance within a limited construction budget. With five active dance studios and a large performance studio intermingled with dance company office spaces, sound isolation was an issue. Because the footprint was tight, and the net/gross ratio had to be high, it wasn't possible to use large air spaces between wall surfaces to provide recording studio calibre isolation, but the isolation is sufficient to allow similar simultaneous usage of adjacent studios (two dance classes or dance rehearsals). Administrative control of noise generated by dissimilar events, like Yoga classes and African Drumming classes, is required to avoid conflicts.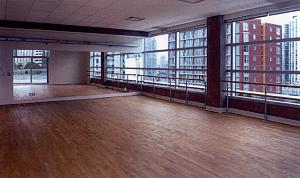 Marcuse Studio at the Scotiabank Dance Centre
The reverberation time of each small and medium studio is controlled to provide good speech intelligibility and reduce the sound level available to travel to other spaces. The studios are intended to have permanent sound systems eventually with ceiling mounted loudspeakers to reduce several acoustical problems associated with dance studios: slap echo across the mirrored walls; high sound levels at the front and low sound levels at the back; and high sound levels against the demising walls that create sound isolation problems.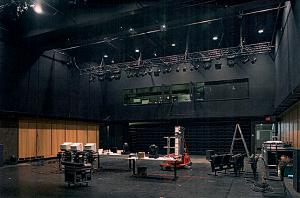 Faris Studio at the Scotiabank Dance Centre
The large black box studio/theatre is intended to be used as a live performance studio, a rehearsal studio and a video studio for dance video creation. We provided a room with an intermediate reverberation time so that the studio would be widely rentable and very usable for a variety of tenants (music, theatre, dance, film/video shoots). The original concept of easily adjustable studio acoustics wasn't able to be implemented because of cost. We had proposed the wood side panels be hinged to allow additional absorption to be exposed, and the panels would be adjustable to behave as adjustable side reflectors for events with live music.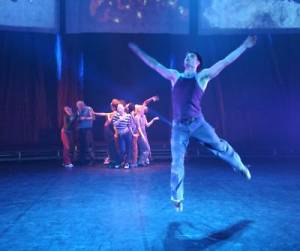 DanceArts Vancouver production of
FIRE ...where there's smoke
David Cooper photo
The studio theatre has hosted several productions to date, including the DanceArts Vancouver production of FIRE... where there's smoke, seen in the photo above.
Visit the Scotiabank Dance Centre website.