Main Page

Design Staff

Design Services

Project List

Audio Demos

Useful Calculators

All over the map

Site Map




Abbotsford Civic Centre
Abbotsford, BC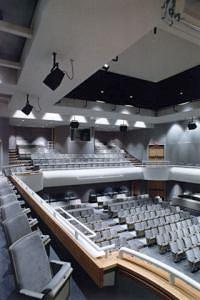 We provided A/V system design services to CJP Architects for the Abbotsford Civic Centre. Completed in early 1992, the Abbotsford Civic Centre is the first facility we were involved in that combined a city council chamber with a community theatre. The auditorium has a combination of orchestra level seating, a dress circle level on the sides, and additional seats in side and rear balconies.
The council chamber made use of large screen video projection, video copystands, slide-to-video conversion, an integrated media control system with several push-button control panel locations, an automatic microphone mixing system, and in-desk audio and video monitors. The desks are removable for theatre applications, and are connected together, and to the hidden floor boxes through multi-pin umbilical cables. There is permanent interconnect cable in place for the Cable TV coverage of council events, and ample empty conduit for future additions and expansion. There is a small theatre production system in place to allow small scale technical productions to be handled without bringing in additional equipment. Several ancilliary rooms are connected to the audio and video distribution system, and have local A/V support equipment and control. An Infra-red hearing assist system is also available in the auditorium.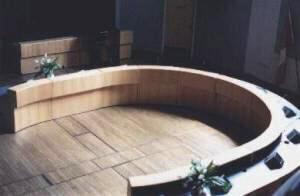 Movable council desks on stage
This project was done while we worked for BKL Consultants between 1991 and 1997.