Control of Ambient Light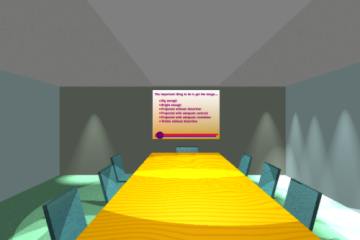 Controlled light level leaves the image bright and clear
Controlling ambient light is crucial for maximizing the contrast in the video image. Video has a limited contrast range compared to film, and suffers much worse in the presence of ambient light on the screen. This can be a difficult lesson for those who have been rooted in the slide projector era, with slide and film projectors the light control was less critical since the projector's light output was quite high, and the contrast range was greater. Many architects have not yet been made aware of the technical limitations of video projection systems, and the cost implications that go with having high levels of ambient light. Even a $50,000 video projector's image can be terminally compromised by too much room light. This produces some conflicts when there may be a requirement for note-taking during a presentation.
Rear projection has a significant advantage over front screen projection in operating in higher ambient light levels, but still can't tolerate high light levels falling directly on the screen surface, or any ambient light behind the screen.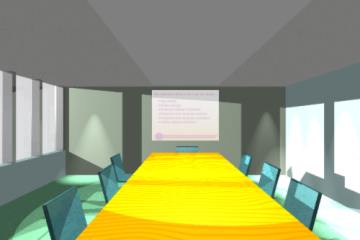 Even a high gain screen and a bright projector can't
compete with high levels of ambient light
Here's an example of what you lose when the image is exposed to excessive ambient light.
View the high contrast image
View the low contrast image
Main Page > Design Services > A/V System Design > Ambient Light > Print Version