Main Page

Design Staff

Design Services

Project List

Audio Demos

Useful Calculators

All over the map

Site Map




CN Centre Arena
Prince George, BC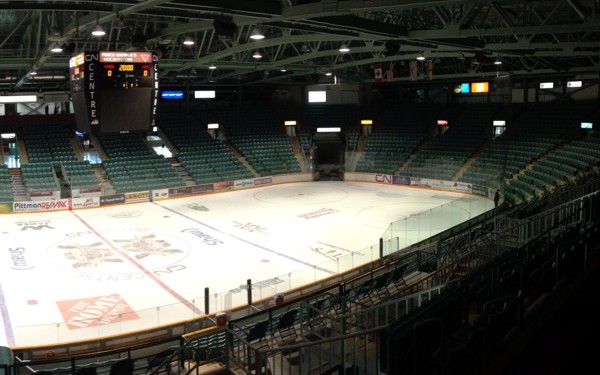 We designed the replacement sound system for the 6000 seat CN Centre Arena, installed in the summer of 2002 by Axe Music of Edmonton. The original sound system was designed by another consulting firm as part of the original building construction. The system consisted of 12 full range horn loaded speakers arranged above the clock (see picture below). They were all identical 60H x 40V coverage speaker systems which meant that the long shots to the seats in the ends had more overlap between speakers and also had more "stray" coverage of the ceiling and wall surfaces. The most problematic issue was coverage in the first few rows behind the glass. The extra high glass used in the ends created large shadowed areas that extended beyond four rows. The shadowed areas on the sides extended for two rows, and included the "best seats in the house" for hockey games.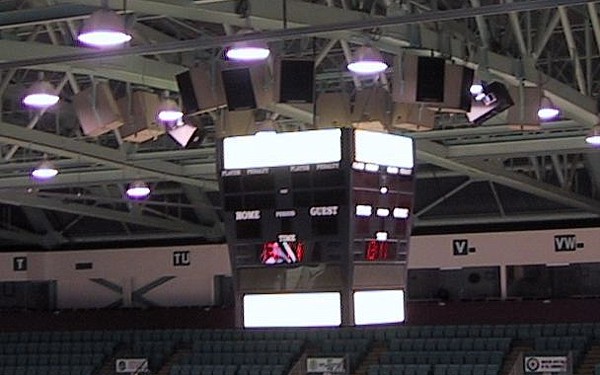 Original speaker system located above the clock
The original 12 speakers were 15" two way systems that suffered from repeated failures due to thermal or mechanical overloads, there wasn't enough power handling to achieve the levels needed for hockey and other events.
The speaker system was changed from a centre cluster to a distributed system with the speakers hung directly above the hockey glass. This reduced the distance between the speakers and listeners, which improved the overall sound quality by improving the direct to reverberant ratio, it also reduces the amount of power needed for each loudspeaker. It provided superb coverage right into the front rows all the way around the glass. The image below shows the original system on the left, note the black shadowed area around the glass, and how large an area is shadowed in the end zone. The image on the right is the coverage of the new arena bowl speaker system, note the lack of shadow in the seating.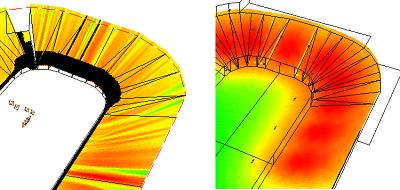 Original system on the left, new system on the right
The original ice coverage speaker system consisted of two speakers, one on each end of the clock, tipped down to cover and area around the blueline to goal on each side. This was inadequate for convention type events where good speech coverage was required. The new ice coverage system consists of 5 speakers, including one down-firing device for centre ice coverage. The five speakers are fed from signal delays in the new DSP front end so that interference is minimized and feedback control is provided.
The new system uses a 24x24 DSP matrix to provide, EQ, limiting, signal delays and routing control, and several presets for standard configurations including; hockey, concert bowl, 1/2 arena, 3/4 arena, convention, etc. The DSP allowed for more control flexibility and system protection during events like Hockey as well. We were able to reuse the existing amplifiers which reduced the cost of the upgrade.
For more information on the facility and event schedules, visit the Prince George Multiplex website.