Regional District of Fraser-
Fort George Boardroom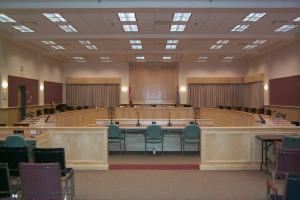 We provided A/V system design services for the new Regional District of Fraser-Fort George Boardroom working with the District, BCBC and Prince George architects Stuart Ross Architects in developing the design, including millwork and coordination details as part of the new construction.
The sound and control systems have been designed to easily accommodate future additions of video display and presentation equipment in the desks and in the room.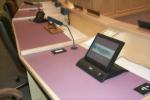 The audio system uses desk mounted loudspeakers for the board members, and ceiling mounted speakers for the gallery. The Clerk has the use of a touch screen to operate the audio system including the order-of-speaking queue that makes the names of the next five talkers available to both the recording secretary and the chairman.
Letter from Regional District of Fraser-Fort George at project completion
A/V Contractor: Genesis Communications - Edmonton, AB