Audio/Video Presentation System Design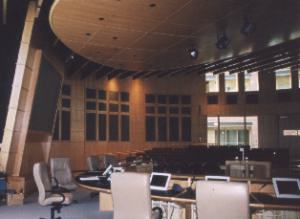 We design and specify Audio/Video presentation systems for many applications, including: convention, corporate, education, marketing, meeting and government applications. The application of multi-media technology to information systems in business, education and government is growing at a remarkable pace, fueled by Internet and WWW devlopments. Distance Education in private industry and the educational institutions is also driving the requirements for video-based presentation systems. Video conference systems are becoming a common item in business and industry, government, medicine and education, as tight budgets make travel less economical.
Video display products are virtually obsolete by the time the packing carton is opened, so an investment in A/V technology has to be carefully considered. We keep up to date on the most current audio and video products and applications to help ensure the longest practical "future proofing" time period for any technology package. The rapid growth of Internet and Intranet computer based applications are putting new demands on A/V systems, as more display technologies are becoming geared toward displaying computer graphics. It is necessary to match source/display resolution to the intended applications. Strategic combinations of desktop computer audio and video source/delivery systems with purpose built A/V system installations will provide the maximum flexibility for media consumers. We produce designs for integrated systems that provide audio, video and control interfaces tailored to the users needs, both present and future. We also provide design and coordination input on related issues such as:
control or projection booth layout.
Main Page > Design Services > A/V Systems > Print Version