City of Richmond Speed Skating Oval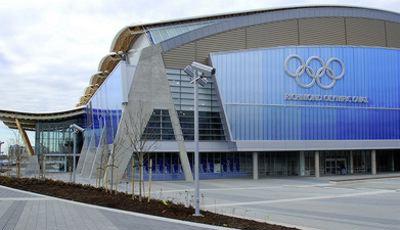 We provided A/V system design services for the Legacy systems in the new Richmond Speed Skating Oval. The Legacy systems included meeting room AV and Fitness/Spin Room systems, information display systems, plus portable sound and video systems for use throughout the facility. There are several AV equipped meeting rooms that can rented by the public when the venue becomes a community facility after the 2010 Olympics. There are fitness and spin rooms that are equipped with sound systems and in the case of the spin room, a large Panasonic plasma display video wall to allow several participants to be interactive with the rowing and cycling machines through software interfaces to a computer processor.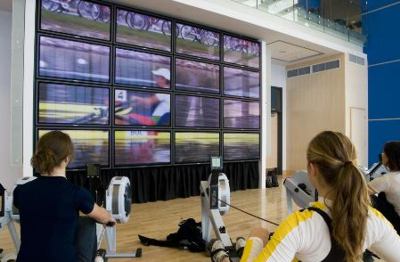 The portable systems provide a flexible sound system package to serve the wide range of bleacher seating configurations possible around the sports floor. The systems can be used independently within the venue or combined for larger events. The portable package includes a wireless link system to connect several powered speakers to a central control point across a sports floor almost 200m x 100m without having to use hundreds of metres of audio cable. This allows faster and safer setup, and much faster changeover between events.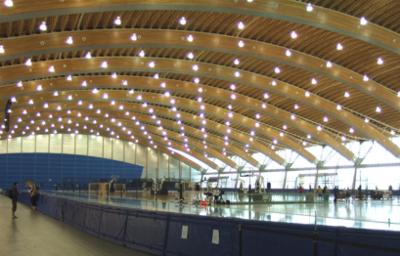 The information displays throughout are Panasonic plasma panelss, and are fed with the Panasonic digital signage package NMStage using RGB over UTP signal distributuion.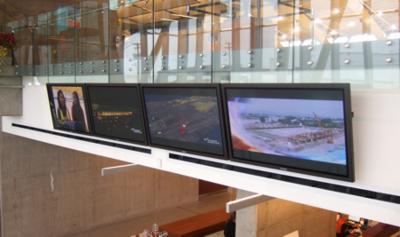 The Legacy AV systems and portable systems were installed and supplied by Rocky Mountain Production Services.
Visit the website of the Richmond Speed Skating Oval