Main Page

Design Staff

Design Services

Project List

Audio Demos

Useful Calculators

All over the map

Site Map




Surrey School District SD-36
Unified Media Communication Systems (UMCS)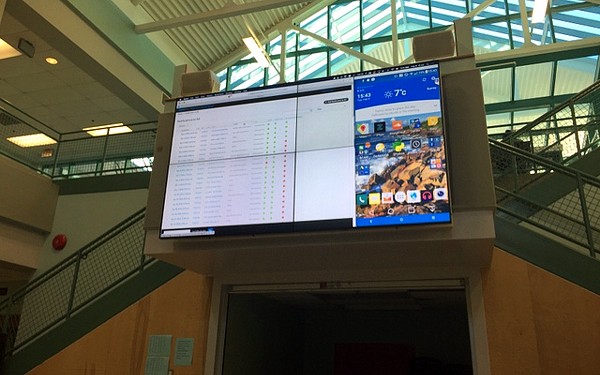 The Surrey School district tasked Mc2 with the development, prototypical testing and roll-out of a new Unified Media Communication systems to all 25-district wide secondary schools, the District Education Centre and the District Resource Centre. The development, design, prototypical testing and district wide roll-out of the Unified Media Communication systems UMCS, incorporates communications to student & staff smart devices, the school and DEC/REC public displays and provides the district with immediate, district wide communications capabilities for emergency notification purposes.
The SD-36 also asked Mc2 to review the situation with the public display systems at their 25 existing secondary schools and provide recommendations to improve reliability, enhance performance, reduce service and support cost and make theses systems easier to use, and if possible add additional features, such as the ability to use these displays as part of a centralized, district wide notifications system. It became quickly apparent that the existing systems at the 25 schools were all stand alone systems off various ages and based on different technology and signal transportation technologies, provided and supported by a variety of contractors, and meeting the districts requirements from a functional, performance, capital cost and operational cost perspective would simply not be possible using typical A/V over cable or proprietary A/V over network cable type technology. The required upgrade to the electrical infrastructure alone to implement such systems would have cost more than the whole technology budget available for this project. A new information delivery model was needed.
Mc2, in our capacity as technology systems consultants and as innovators, put our heads down and upon reviewing the communications technology systems and strategies in use at the secondary schools, it became clear that to communicate with students, staff, parents and school visitors effectively, the systems needed to be unified and make use of existing delivery mechanisms (wireless computer network) and delivery systems (hand held smart devices such as phones and tablets). As most school districts had done in recent years, due to the demand from students and staff, the SD-36 secondary schools had all been equipped with high capacity wireless network systems, since about every student seems to carry a personal smart device these days. So it only made sense to integrate school apps, with the school public display systems and the room booking notification systems…. All in one systems, also including school scheduling and provide the ability for the school to eliminate the purchase of an agenda book for every student, eliminate the need for school attendance voice mail notification services, with the ability to send and post notifications to one class at one school or send & post district wide emergency notifications, all from the 'dashboard' control centre directly from the smart phone or tablet. Mc2 conducted prototypical testing, and upon detailed demonstration of the capabilities and features to the school district stakeholders, the system was rolled out at five secondary schools as a beta test, and as the system proved to be extremely easy to use, very popular with students, staff and parents, the decisions was made to roll it out to within all 25 secondary schools with the a 2 year period. The roll-out of the UMCS systems at all 25 high schools came at a fraction of the cost of traditional A/V technology delivery systems.