Main Page

Design Staff

Design Services

Project List

Audio Demos

Useful Calculators

All over the map

Site Map

Contact Us



Related Pages

Why does excess reverberation affect speech intelligibility?

Sound System Design



Sports and Recreation Facilites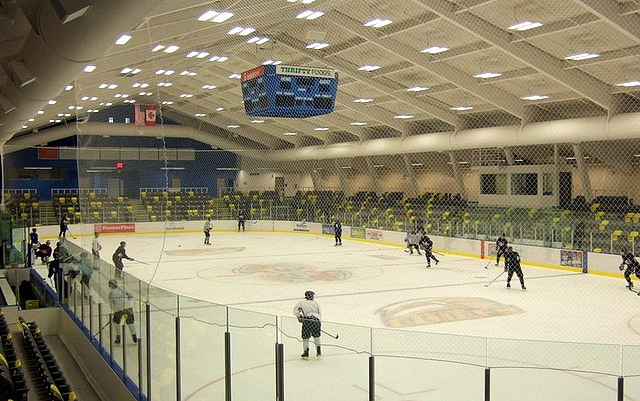 We provide sound system design services for arenas, pools and sports facilities. As an integral part of a sound system design package, we provide acoustical recommendations since the acoustic performance and sound system cost are closely related.
The importance of acoustical design in very large buildings such as arenas, pools and fieldhouses can't be overstated. Whether it's 20,000 seat NHL arenas, or 500 seat community hockey arenas, the control of reverberation time is important to maintain both speech intelligibility and background noise control. Most facilities need to earn their keep by being more than a hockey barn these days. A well controlled and balanced reverberant decay spectrum can make a 20,000 seat venue work as well for the three tenors or the heavy metal band du jour, as it does for the next Stanley Cup hopefuls. Acoustical design doesn't stop at reverberation control; reflections from very large wall and ceiling surfaces must be controlled to prevent late echoes from turning speech into a jumble.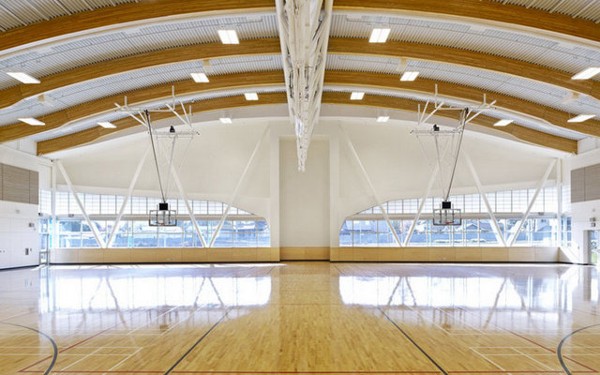 Highly effective sound systems are required in sports and recreation facilities to provide the widest rental income potential. Whether it is the words of a sports announcer, the music for figure skating, or instructions from a coach, the sound system plays an important part in the activities in large arenas, gymnasiums, and swimming pools. In some environments where speech communication is critical (like a lifeguard in a pool), it can even become a life safety issue.
We often recommend that the operators of multipurpose arenas consider the sound system in the same way they consider the seats the patrons sit in. The sound system has a huge impact on the enjoyment of the audience, and where admission is charged it becomes even more important to deliver consistent high quality sound throughout all the seating. It makes sense to consider the sound system cost in terms of a cost per seat as it makes it much easier to amortize the capital costs of the system over the audience it supports. A sound system cost range of $50 - $100 CDN per seat is not unusual, and this range applies to 1,000 seat community arenas right up to 20,000 seat facilities. When compared to the cost of the seats themselves, the sound system cost per patron is fairly small. For most events, the quality of sound delivered to the audience will affect their satisfaction with the event to a much greater degree than the quality of the seat they sit in. Where an event is heavily based on speech content, an inadequate sound system will often result in requests for ticket refunds.
We provide the most cost effective sound system design possible, taking into account the acoustical environment, the required system features and performance, and the available budget.