Main Page

Design Staff

Design Services

Project List

Audio Demos

Useful Calculators

All over the map

Site Map


Related Pages

Audio Visual System Design




BC Hydro Customer Centre
Presentation Room
Vancouver, BC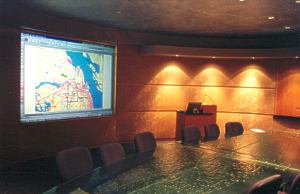 We provided A/V system and acoustical design services to BC Hydro, and Ashly-Pryce Interior Designers, for the new BC Hydro Meeting/Presentation Room in the Customer Centre in downtown Vancouver. We assisted BC Hydro in streamlining the technical program requirements for the A/V system to maximize the value they would receive for the capital expenditure. We also developed acoustical treatment recommendations to control unwanted reflections in the oval-shaped room, while still providing a comfortable speaking environment.
The room provides corporate sales and presentation capabilities, supporting technical presentations to prospective corporate/industry customers thinking of locating in British Columbia. BC Hydro also makes the room available to BC municipalities to make presentations to these businesses. The A/V presentations can include computer generated maps of Hydro's service areas, plus Power Point presentations from the permanent presentation computer or a laptop, play back of video tapes and DVDs, or video images from a document camera, all shown on a high resolution rear projection video system. A pair of high quality coaxial studio monitors flank the screen, located behind the acoustical wall fabric, these provide extended bandwidth A/V source playback without the need for additional subwoofers, and there is a separate sound system using ceiling speakers used for voice reinforcement when required.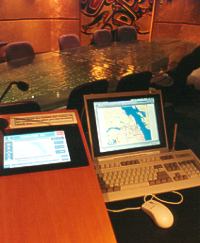 The user interface for the presentation computer is a combination of conventional mouse plus a Wacom PL-400 XGA video graphics tablet, allowing the presenter to annotate the display on the projection screen by drawing directly on the XGA display located in front of them using the wireless stylus. This has proven to be a very friendly interface, allowing the presenter to remain focused on their audience and eliminate the need to turn and face the screen.
The control of all the A/V and lighting systems are integrated through a touch panel control system that offers video display capability for previewing or cueing of video sources.

A/V Contractor: Freeman-Smyth Audio Visual, Surrey, BC