Bear Mountain Arena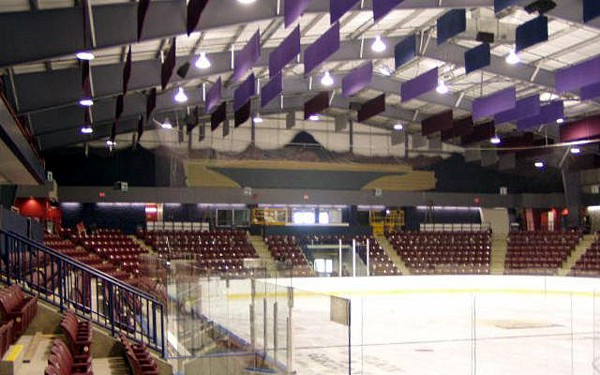 We provided sound system design services for Durwest Construction Management and the West Shore Parks and Recreation Society duirng the construction of the new Bear Mountain Arena in the west side of Victoria, BC. The arena would be home to the Victoria Shamrocks lacrosse team. the Victoria Salsa hockey team, and would perform multiple duties as a community ice rink and multipurpose rental arena facility. The sound system had to support multiple uses with equal effectiveness, as well as providing basic support for radio and TV broadcasters.
The building was designed by Vic Davies Architects who are experienced in sports facility design, so the acoustical design had already been well considered by the time we were involved. We designed a distributed sound system with the speakers located around the boards for optimum coverage of the seats and boxes. A separately zoned system allowed flexible coverage of the ice surface. Presets were provided for typical uses: sports, end stage, 1/2 house stage etc. so that the sound system could have the delays and levels configured for those various uses with a single button push on a small touch panel. The touch panel also controls the input levels of various input connections around the building.
There are numerous input panels at ice level, including large panels in the main entryways through the seat deck where a stage platform would be used. Audio ties lines allow signal patching without running lengths of mic cable around the building. Video tie lines are provided for convenient connection of cameras or video monitors. There are permanent Clear-Com lines in many locations as well to minimize the setup time, a portable Clear-Com power supply can be connected at any location to energize the intercom system.
A separate set of broadcast bulkheads connect the press and annouce booths to each other and to the main brodcast bulkhead at the loading dock. In addition a pair of sound effects microphones are suspended over the ice to allow the broadcasters to pickup the ambient sound of a sports events without having to run their own microphones.