Main Page

Design Staff

Design Services

Project List

Audio Demos

Useful Calculators

All over the map

Site Map




Manitoba Lotteries Theme Casinos
Winnipeg, Manitoba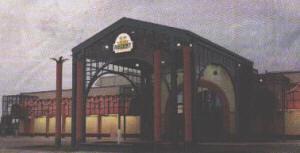 We provided design services for the original sound, video and special effects audio systems design for two large theme casinos for Number Ten Architects and the Manitoba Lotteries Foundation. One casino had a caribbean theme, and the other a vintage train station theme, complete with a steam locomotive in the foyer. The anchor game in each venue was Bingo, and each venue has a 1200 seat semi-circular playing area, fronted by the caller's stand and a large 6x6 monitor video wall displaying the image of each bingo ball as it is called. The speech reinforcement was arranged in consecutive delayed rings to provide uniform coverage without excessive levels at any seat. Cabling provisions were made to allow rental audio equipment to be used for live music shows as part of the entertainment package. There were other gaming areas as well, with slot machines and table games. The audio system in the slot machine area doubled as a special effects system, providing background levels of slot machine activity, helping add to the sense of excitement. There were other "theme park like" effects system in the lobbies, providing train station sounds, or tropical island sound effects as required.
Control of multiple audio and video systems, from both local and remote points, was accomplished with an integrated media control system. This allowed the systems to be started from the manager's office in the morning, and then each local subsystem could be controlled by the employees in each area.
These two casinos have enjoyed unprecedented success and are scheduled to undergo upgrades to newer and more elaborate support and effects systems.
This project was done while we worked for BKL Consultants between 1991 and 1997.