UBC BioSciences 2000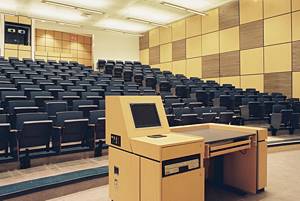 We provided acoustical and audio/visual design services to Maples Argo Architects for the renovation of the BioSciences 2000 lecture theatre at the University of British Columbia. The room renovation included an increase in seat count using new seating, improved acoustics and upgraded audio/visual systems.
The room has dual video projectors in a compact projection booth in the rear of the room and two motorized screens at the front of the room. A permanent lectern mounted PC computer plus an Apple computer, and a laptop computer can be shown, as well as a portable document camera. There's a permanent combo VCR/DVD player in the lectern as well. The system is controlled through a 6" touch panel.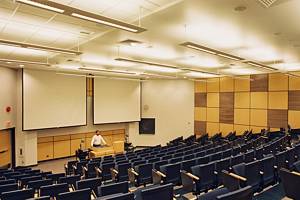 The audio system uses distributed ceiling speakers to amplify the instructor and students using wireless microphones as well as providing AV playback support.
The room also has a student response system by EduCue mounted on the ceiling and connected to the lectern computer.
Room acoustics were upgraded to improve speech intelligibility, with a fully occupied reverberation time of 0.7 seconds. The normal room booking is for 75% or higher occupancy so the permanent acoustical treatment is developed around the absorption provided by the students at 75% occupancy minimum.
Sound isolation to the exterior of the room was improved, and the foyer outside the theatre had its reverberation time shortened to significantly reduce the noise levels outside the entry doorways.
A/V Contractor: Allstar Show Industries, Richmond, BC