Main Page

Design Staff

Design Services

Project List

Audio Demos

Useful Calculators

All over the map

Site Map

Contact Us




Member of the
International
Communications
Industries
Association

AV Projection Booth and
Control Room Design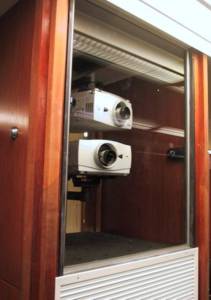 This is one of the very unglamorous aspects of AV design but is very important to the overall function of the room. We help the design team layout the booth so that it accommodates all the necessary AV equipment, has suitable windows or projection ports for all the required projection media, and has enough AC power and ventilation to make it all work. It sounds like it should be fairly simple to coordinate, but there's always challenges. The projection or equipment booth is usually viewed as a very expensive storage room that affects the net/gross ratio of a building, and it either takes up valuable seating area within a room or valuable circulation space outside a room. Either way there's always a bit of tug o' war involved to get adequate space for a booth.
There's really two kinds of projection booths, they either have provision for a techician or operator, or they are just a secure room for equipment, with no provision for having staff in them during the system operation. That's the first decision in the design path, and it affects booth size, shape and the maximum ambient temperature.
If it's just a secure equipment room, the maximum temperature could run as high as 30C-35C (85F-95F) degrees during the system operation, as long as that wasn't the long term average temperature. For a booth with an operator the temperature should run no more than 22C-25C (72F-77F) or the operator will fall asleep. That sets the criteria that the mechanical consultant has to work towards. When you consider how many heat sources are located in the booth, that can have quite an impact on the budget for the mechanical system. One can almost guarantee that the design team will be very surprised how big a heat load a large AV system with video projectors and an operator might be.


Tech booth at Timms Centre for the Arts at the University of Alberta
lighting technician / stage manager / sound technician
images courtesy UofA Drama Department
In multiuse rooms, the AV projection booth might also serve for theatrical type production, so it may be necessary to accommodate a sound tech, a lighting tech and a stage manager or director, or in a smaller venue, an omnitech who handles all of that. That will affect both the size, shape and window space requirements, and the need for flexibility in layout of the counter where sound, lighting and intercom equipment needs to be located. That same counter space may need to be used for 35mm slide projection, film projectors etc.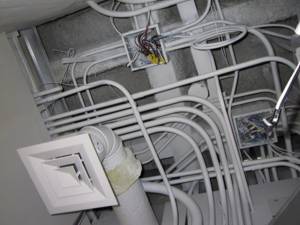 The booth is also the destination for a lot of conduit when there's a moderately complex AV system involved. If other systems such as lighting or data are co-located in the AV booth, the conduit density really increases. Part of the design process is having to coordinate separation between services, where equipment is located, how the conduit runs, where the junction boxes are, what walls can be shared with which types of panels, etc.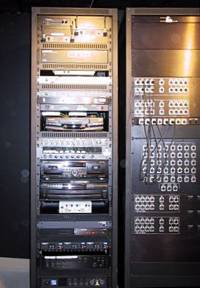 The equipment racks always present a problem in a compact space like a booth. Some equipment needs to be accessed constantly by a technician during an event to load media, adjust levels, monitor status, change patches, etc. Some equipment is set-and-forget. The challenge is having the rack in a location that is as accessible as it needs to be, without being in the way for everything else at the same time. Often there's a challenge getting service space behind a rack, so the rack has to be a wall mount swing rack or has to be on a wheel base so that it can be pulled out from a wall for service access. In some parts of the country (like here) that means seismic restraint so it won't tip in an earthquake, so there's added detail.
To cap off the idea that a booth is not architecturally glamourous, a typical projection booth with an operator will be painted flat black to minimize the amount of reflected light that might spill out into the audience seating area through the booth windows. There's no faster way to win the interest of an architect or interior designer than to tell them you want the walls and ceiling painted flat black. It's usually just the architects that do theatrical work on a regular basis that don't mind flat black paint (at least there's no day glo paint and black lights involved).
It's a surprising amount of work to lay out an effective projection booth to support the AV equipment and the room use. It's really a challenge to argue for the elements that can't be compromised and develop creative solutions for the ones that are flexible, and then to coordinate all the various requirements within the available wall and floor space. It's also quite critical that its done right the first time to provide support for the systems and the operator.
Main Page > Design Services > A/V System Design > Booth Design