Main Page

Design Staff

Design Services

Project List

Audio Demos

Useful Calculators

All over the map

Site Map

Contact Us


Related Pages

A/V Systems

Sound System Design

Mono or Stereo?

Cluster Design for
Intelligibility

Loudspeaker
Directivity

Will that be one
mic or two?

Lavalier vs.
lectern mic

Speech Intelligibility

Intelligibility
Calculator

Why does excess reverberation affect speech intelligibility?



Church Acoustics, Sound and Video Systems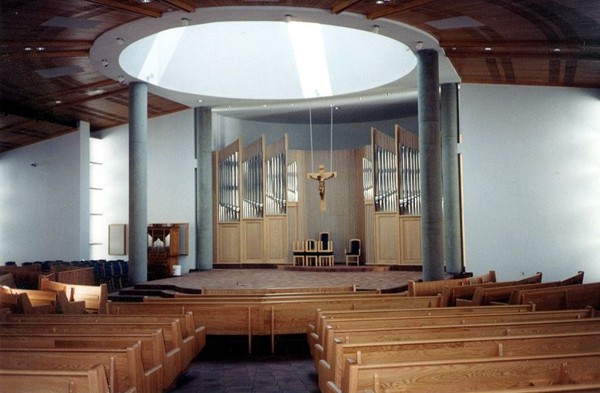 In a church, the communication of the spoken word is vitally important. Many ministries also include devotional music as a major part of the service. The sanctuary acoustics must be tailored to the ministry, and support the music program and deliver the necessary speech intelligibility. Where the size of the church, or the requirements of the services demand it, a sound system must be designed to work with the room acoustics, and to meet the needs of the ministry. The sound system may be required to deliver natural and transparent speech reinforcement in a lively acoustic environment optimized for a pipe organ and choral singing, or reinforce a fully amplified band or orchestra in a large evangelical church, in either case, the understanding of the acoustical environment is critical to the successful sound system design.
Our acoustical design services for churches include: the control of excess reverberation time and late reflections, design of room and reflector shaping for musical support, sound isolation of confessionals and private consultation rooms, design of speech and music reinforcement systems, and the design of A/V presentation and support systems. We also offer an evaluation service for design/build proposals from sound system contractors, ensuring that the proposals are based on the same performance and functional criteria.
We offer our acoustical and sound system design services for churches of all sizes and denominations. We provide both acoustical and sound system design for new construction and remedial or renovation. We also provide objective evaluation of acoustical conditions and sound systems in existing churches, and are able to provide preliminary budget estimates to the building committees for the required improvements to aid in budget planning and fundraising efforts. Because we do not sell products or systems, we are able to provide the most cost effective design recommendations, unlike suppliers who offer evaluations and free design, but have a vested interest in the sale, or the products being recommended.
The use of video projection, video recording and video distribution is becoming increasingly popular in church settings. We have extensive experience in large screen projection systems using high brightness video projectors for lecture theatres and similar venues. We provide design services covering front and rear screen video projection systems, cameras and recording systems, and video or CATV distribution systems.