UBC CIRS Lecture Theatre 1250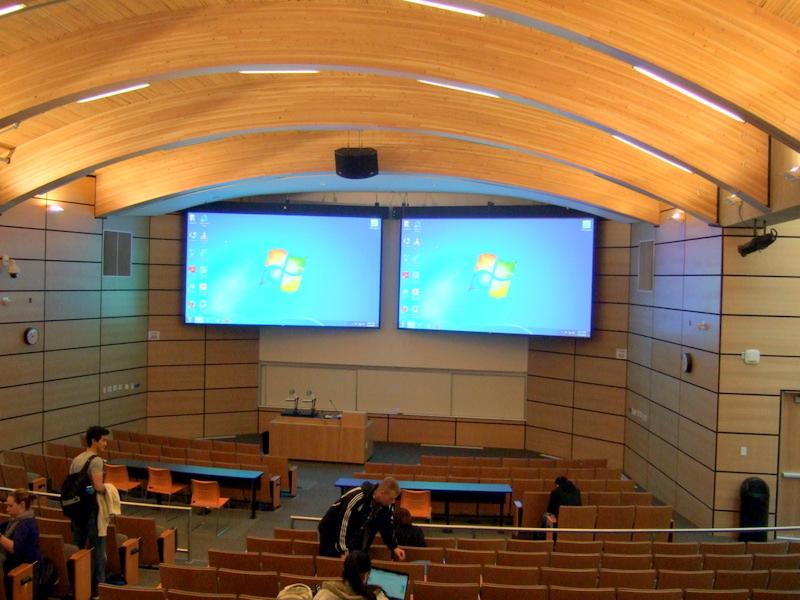 We provided audio/visual design services for the new 450 seat lecture theatre in the University of British Columbia Centre for Interactive Research on Sustainability.
The sound system uses a compact speaker array to cover the front 2/3 of the room and set of ceiling mounted delayed infill speakers for the rear 1/3 of the room. There is provision to expand the system to include a stereo AV playback system flanking the centre screen and surround sound speakers in the future. The theatre audio can be sent into the lobby for event overflow as well.
The video system has three projectors, a pair of 16:10 format screens for typical lecture applications or a single centre 16:9 image for more cinematic presentations. The switching is HDCP compliant fiberoptic based digital video with a Blu-Ray DVD in the lectern, a permanent PC, inputs for HDMI and VGA laptops. The system can accept input from the adjacent BC Hydro Decision Lab and also send overflow video to the video wall in the lobby.
There is an HD camera at the rear of the room that can capture a wide or tight shot of a presenter for recording/streaming or as an overflow feed to the lobby video wall.
There is a control system with lectern mounted touch panel, a lobby touch panel and Xpanel interface for tech support.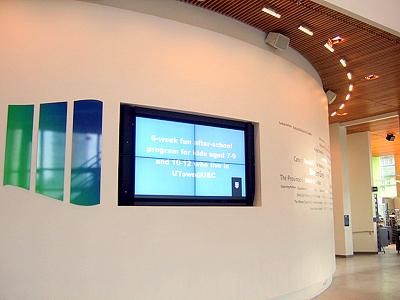 The lobby has a 4x 46" LCD video wall that can display 4 separate images from the building management system computers showing the performance of the sustainability systems, or one image from the digital signage system or overflow video from the theatre. The audio system has a stereo playback system associated with the video wall content plus ceiling mounted speakers for local speech reinforcement for receptions and local lobby events. A wall mount touch panel allows local operation of the lobby system.
A/V Contractor: Allstar Show Industries.