Main Page

Design Staff

Design Services

Project List

Audio Demos

Useful Calculators

All over the map

Site Map




Concord Pacific Place
Presentation Centre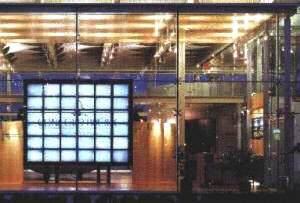 The Concord Pacific Place Presentation Centre was built as sales office for the massive new residential development along False Creek in downtown Vancouver. We worked closely with Karo Design Resources of Vancouver to develop the design for the A/V display and presentation components that would be used in this striking facility. A 36 monitor video wall is visible from the nearby Pacific Boulevard at night, fed from a locally produced ODC laserdisc source showing features of the new project. Inside, an automated video presentation theatre takes prospective buyers on a computer generated flythrough of the entire development. A full Dolby ® surround audio system and large screen rear projection video display system are combined with an AMX touchscreen based control system to provide a simplified control interface for a very comprehensive A/V system. The video system is sourced from an ODC laserdisc that is produced for each new phase of the real estate development. A locally produced audio CD carries the Mandarin and Cantonese translation audio for the narration. A touch screen is located on the theatre wall and another on the attendant's desk, allowing the flexibility of using a tour guide to walk clients through the facility or to operate the show from outside of the theatre, and allow self guided tours.
Several of the "Home-of-the-Future" systems being provided by Concord Pacific and BC Tel were eventually incorporated into the control system to form a fully orchestrated walk through tour. The theatre is also rented out to other groups, such as Tourism Vancouver for presentation of promotional material.
This project was done while we worked for BKL Consultants between 1991 and 1997.