Children and Women's Health
Centre of BC Education Centre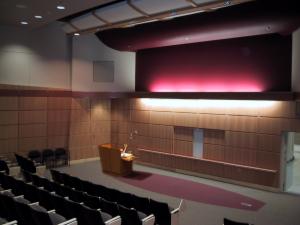 We provided A/V system design for the Children and Women's Health Centre of BC new Education Centre auditorium. Working with the owner, Stantec and MCM Interiors, we designed the system to support sXGA resolution computer presentations for Grand Rounds as well as lectures and training functions. Even the document camera is capable of sXGA resolution (at 7.5fps). Two permanent computers (Mac and a PC), plus a laptop input, allow a variety of network and portable presentations to be made, including electronic images from the Radiology Lab.
The video system also is designed to allow the future connection of a video codec for distant education applications. A small robotic camera is located at the back of the room to relay the auditorium events out into the lobby and other areas, or to be recorded. The camera can be manually operated or can go to any of six presets.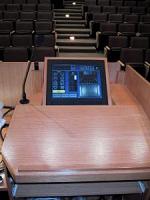 The audio system is split between stereo A/V source playback through 15" two-way loudspeakers and a mono speech reinforcement system using high quality distributed ceiling speakers. Signal routing and volume controls are independent of each other. Two wireless microphones allow team presentations. Additional wired microphone inputs exist at the lectern and in the seat deck.
The control system uses a 15" touch panel which also serves as the screen for the two permanent computers in the lectern. The control system operates the A/V equipment, lighting presets, screens, camera controls, etc. The system is network accessible to allow remote tech support through e-Control software. Remote email notification of system problems is also included.