Duke Point Ferry Terminal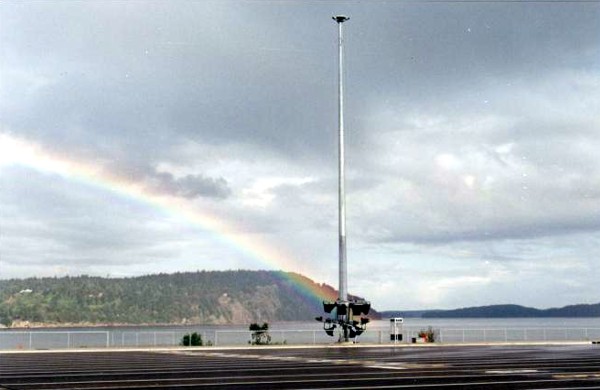 How do you best provide paging announcements for a vehicle queue that is 300 feet wide and almost 700 feet long, when all the noise sources in the form of diesel trucks and buses are located at the furthest distance from the loudspeaker systems. We provided sound system design services to Reid Crowther and Partners for the BC Ferries Corporation terminal in Nanaimo BC. In this facility the speaker mounting options were limited to 100 foot high lamp poles down one side of the vehicle area. The problem of multiple sound arrivals that plagued other large vehicle queues was to be avoided at all costs.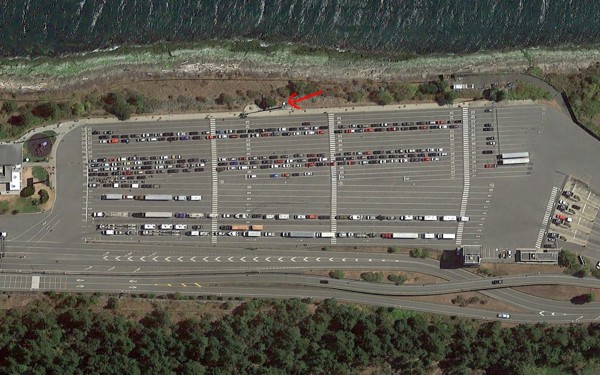 Since there was no way to use multiple towers and signal delays to eliminate all the potential arrival delays across a parking area this wide, we investigated the approach of using a single tower to see if we could achieve a reasonable uniformity of level throughout the vehicle area. Computer modelling allowed us to select the optimum device type and position for best coverage, predict the power settings, and even check to see if the sound levels may be excessive on nearby Gabriola Island, or across the water in downtown Nanaimo. It was possible to achieve this from a single loudspeaker tower, equipped with a lowerable lighting ring that allowed the speakers to be installed and aimed on the ground.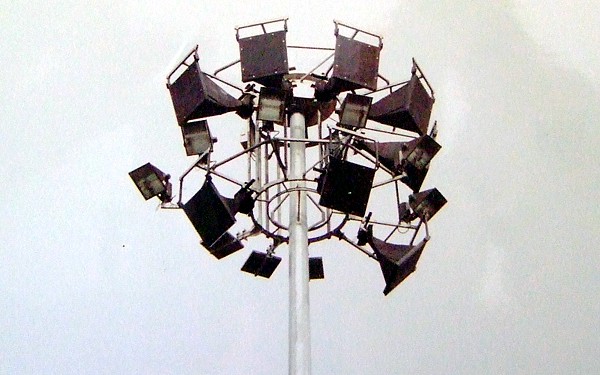 High output Community M4 drivers and fibreglass horns allowed a lightweight system to be mounted to the movable lighting ring. A total of eight horns and drivers are used to cover the entire vehicle queue area with a uniformity of 6dB. A level of 95dB is easily achieved at the furthest corners of the vehicle queue with substantial headroom left in the amplifiers and loudspeakers.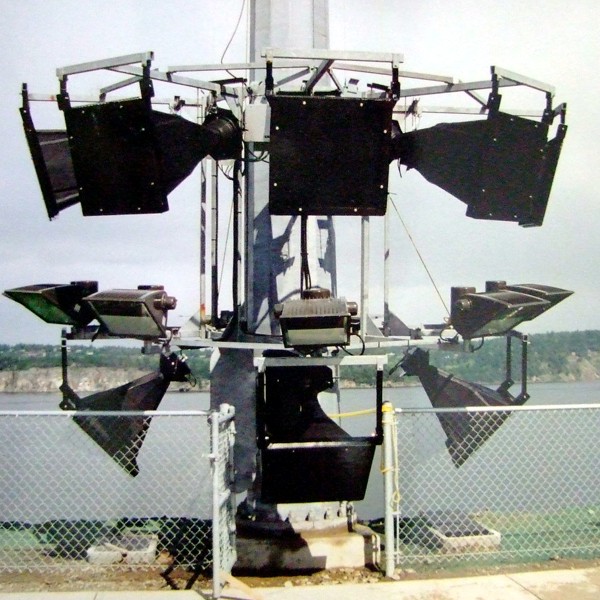 The Crown amplifiers use an internal CPU equipped Smart PIP module that provides on-going load monitoring, and automatic power standby mode switching, with no dedicated computer required. This allows the untended amplifiers to idle at very low current when not in use, reducing the operating costs for the audio system. In the event that either amplifiers or speakers fail, an alarm is sounded in the operator's position. The speakers and amplifiers are equipped with lightning protection to enhance the survivability in the event of a lightning strike on the 100 foot tower.
In addition the installation (by Lightrix, Inc. of Victoria) has multi-zone interior and exterior paging zones in the associated buildings and parking lots, and pre-recorded digital message paging for standard messages that can be sent to each zone as well.
This project was done while we worked for BKL Consultants between 1991 and 1997.