Surrey Sport and
Leisure Complex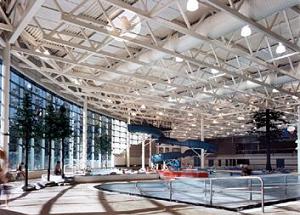 The Surrey Sport and Leisure Complex in Surrey, BC., is a large indoor aquatics recreation facility that incorporates a lap pool, leisure pool, fitness centre, meeting and multi-purpose rooms under one roof. We worked with DGBK Architects to provide the design for the multi-zone sound systems for the facility.
The pool area makes use of medium format horn loaded loudspeakers with a single 12" LF driver and a coaxial HF horn. These devices provide good intelligibility in the large spaces of the pool without being obtrusive. The fibreglass construction is inherently moisture proof, eliminating the concern for waterproofing and long term maintenance.
The fitness area makes use of high quality ceiling speakers to provide good quality music playback capability over the fitness area. The main paging station is at the reception desk in the lobby, along with main background music sources. The lifeguard station in the pool area has the local control rack and the music sources for the pool area located in the dryside.
For more information on this facility and the activity schedules, visit the City of Surrey's Parks and Recreation website