Main Page

Design Staff

Design Services

Project List

Audio Demos

Contact Us

Reference books



The small grainy
JavaScript
preview screen


Floor Coverage of Centre Cluster
Click on the black dots to view the frequency response measured at these seating positions. Note the variations in frequency response throughout the seating area. Consider what this wild variation in sound quality would mean for the people sitting in these seats. These variations cannot be corrected through equalization since fixing the response for one seat would make it worse in other seats.
If you have Netscape 3.0 or later you can see a small grainy preview of the frequency response popped up in the JavaScript preview screen to the left when you place your mouse over the links.
Seat B24 | Seat E15 | Seat E25 | Seat J19 | Seat J30
House Mix Position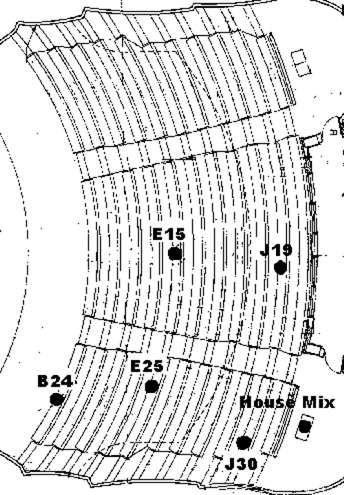 Note the extreme variations in frequency response through the seating area, every seat's frequency response looks, and most importantly sounds very different. On the main floor in Seat B24 note the dip in level below 400Hz, a large peak at about 1200Hz, and then ragged response above that. Now compare that to the seats E15 and E25, they have a dip centered at 400Hz and noticeably different HF response. E25 actually has fairly smooth HF response. E15 is more ragged. J19 and J30 are both under the balcony overhang, but the cluster is still visible from these seats. J30 looks virtually the same as our single box response, this seat is essentially on axis with one box and the performance looks good. Compare that to J19 which as a bump at 250Hz and a steady roll-off slope above that. The house mix position is completely under the balcony and the frequency response is awful, you could not possibly make mixing decisions from this location.
Return to Cluster Case Study | Up to the Balcony