Main Page

Design Staff

Design Services

Project List

Audio Demos

Useful Calculators

All over the map

Site Map




Four Seasons Hotel
Whistler BC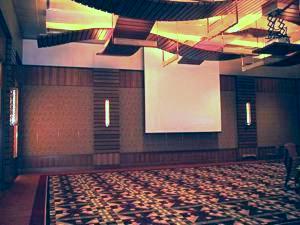 We designed the sound and AV systems at the new Four Seasons Hotel in Whistler, BC, working for Intrawest Resort Development who developed the complex. This hotel is luxurious and sophisticated in both design and finish quality. The Four Seasons Hotel chain has a rigorous AV system standards document describing the features and functions required. There is a large divisible ballroom plus four meeting rooms, all fully equipped with permanent AV systems, including ceiling mounted video projectors in motorized lifts.
The systems are controlled through an AMX touch panel control system with touch panels in each meeting room, ballroom and prefunction area. The audio systems are built around an audio DSP that does combining and equalization. There are several AV input panels that run back to dedicated audio, video and RGBHV inputs in the equipment rooms. This allows flexible audio and video combining of the rooms. In addition there are patchable audio and video inputs and outputs, plus a dedicated set of patchable AV-only CAT5e drops on each input plate to allow the use of the various video and RGB UTP converters for larger staging events, these run to a dedicated CAT5 patchbay in the AV rack. There are also background music systems for the lobbies, restaurant and lounge areas.


Wall plate in Ballroom
The Spa area has 15 individual massage rooms, each with 4 selectable channels of background music plus the option of locally sourced CD playback in each room. There is also an aerobics studio and a weight room that have their own music playback systems. The pool also has music available through underwater loudspeakers.
For more information on the hotel, visit the Four Seasons Hotel website
AV Contractor: PJS Systems - New Westminster, BC