Gleneagles Community Centre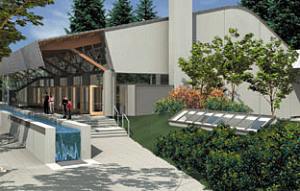 We worked with Patkau Architects on the Gleneagles Community Centre in West Vancouver. We provided sound system design services for this multipurpose facility, containing a gymnasium, a fitness area, a multipurpose room, a lobby area with coffee shop, and a variety of art studios, workshops and small office spaces.
There is an overall paging and background music systems that cover public circulation areas, as well as three separate local use sound systems for the gymnasium, fitness area and multipurpose room. The gymnasium and multipurpose rooms have wireless headset microphone systems for use by aerobics and yoga instructors, or sport coaches and instructors.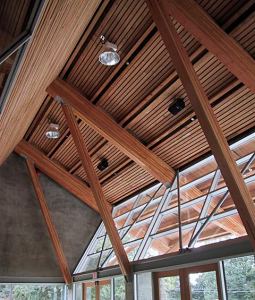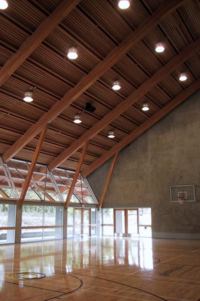 The fitness area and gymnasium are open to each other to provide some visual connection, plus the audible relationship of hearing activities going on elsewhere. We used a computer model of the speaker coverage in these two spaces to predict the expected cross communication between spaces so that the architect and owner's representatives had an understanding of what to expect with the open design. That configuration meant we needed a variety of additional sound system capabilities to allow the gym and fitness area to share a single audio source that can either be in the gym or in the fitness area. In addition, it is possible to use either sound system in "stealth" mode with the LPB broadcast band FM transmitter available in each system. This allows an activity using loudspeakers in one area and an activity in the other area can use headphones to listen to the local audio source.
All three local use systems are equipped with a LPB FM transmitter by Decade Transmitters, manufactured in Quebec to suit CRTC and MOC regulations covering low power broadcast transmitters. While it would have been possible to use dedicated FM listening assistance systems in each area, there were a variety of concerns about managing the dedicated receivers and headphones in a fitness or activity environment, including maintenance and hygiene issues. The use of FM transmitters operating in the 88-108MHz band allows users to bring their own FM personal stereo receivers and use them in the facility. There are plans to make induction neck loops available to the users so that they can be used instead of headphones.
The multipurpose room also has a perimeter induction loop for use by an outside user group that allows them to provide their own induction loop amplifier and still make use of the local music and wireless microphone sources in the room.
The sound system produces sound quality in keeping with the expectations of a facility located in West Vancouver, a city that has one of the highest per capita incomes in Canada.
The sound system was installed by Pro Sound & Stage Lighting Ltd. of Langley, BC.