Main Page

Design Staff

Design Services

Project List

Audio Demos

Useful Calculators

All over the map

Site Map




Good Shepherd Church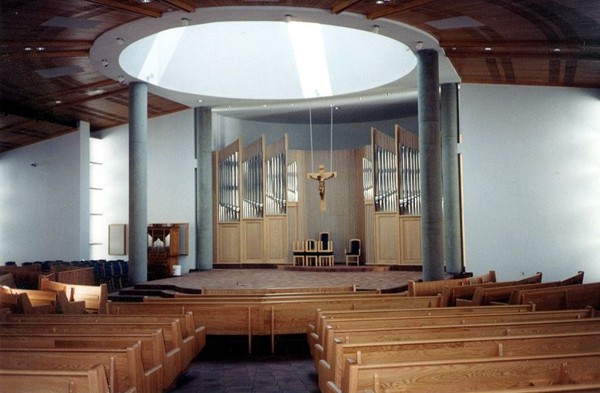 The Good Shepherd Church in South Surrey, BC is an 800 seat semi-circular church for which we provided both acoustical and sound system design. The design began with basic criteria, deliver excellent speech intelligibility and provide an acoustical environment that supported congregational singing, but was primarily suited to speech. The sound system was to be invisible, and hands free in operation. Several months into the project, a member of the congregation donated a pipe organ to the church, which changed the acoustical criteria quite drastically. Where we would have tried to provide an occupied reverberation time of 1.0 to 1.2 seconds, we were quite suddenly faced with a need to stretch the reverb time as far as we could to optimize the performance of the $500,000 pipe organ.
The acoustical design had been driven by the need to control a significant late reflection source, as much as reverberation. The Altar is located at the focal point of the semi-circular rear wall, so it was vitally important that we control the reflection back to both the Altar and the puplit, which would be delayed by approximately 150msec. Now that we had to minimize the absorptive surfaces to maintain as long a reverb time as possible, a different approach would be needed to halt that reflection. Because the rear wall was a major visual focal point, the surface shape was important to the architect and owner. After several iterations of diffusive wall designs, an undulating wave design shown here was accepted by both the owner and architect.
The final acoustical design provided a balanced reverberation spectrum with an occupied reverb time of 1.6 seconds, the longest possible in this relatively small room volume. The real achievement was the 2.1 second reverb time below 125Hz in a room of gypsum wall board construction, providing excellent low frequency support for the organ. Conventional stud/GWB construction is usually quite absorptive in the low frequency spectrum. The room supports both the pipe organ and choral/congregational singing.
This project was done while we worked for BKL Consultants between 1991 and 1997.