Hebb Physics Lecture Theatre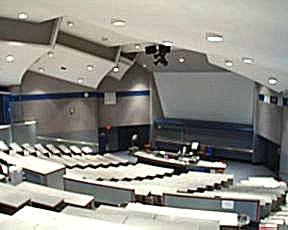 Room with 1994 lectern and projection screen
The original 1994 seismic upgrade renovation of the University of British Columbia's aging 375 seat Hebb Theatre provided the opportunity to update the five decade old room acoustics. Built in the late 1940's, the all plaster construction provided a uniform 2.0 second reverberation time that made the room virtually unusable with less than 300 students in the room. The original sound system was a pair of very old column speakers augmented by re-entrant horns. The speech intelligibility measurements of the original construction came up as a Speech Transmission Index (STI) of 0.41-0.45 (equal to %ALCONS of 18%, a very Poor rating) with or without the sound system.
The acoustical renovations involved the addition of absorption to bring the reverberation time down to 1.0 second (unoccupied), bringing the unaided STI up to 0.61-0.64 (equal to %ALCONS of 6%, which is a Fair rating) and the reinforced STI up to 0.65-0.71 (equal to %ALCONS of 3.8%, a Good rating). The addition of students will improve the acoustical environment even further. The drop in reverb time also improved the noise control in the space. Absorption was carefully applied to surfaces near the lecturer's position at the front of the room. Reduction of reverb time and the control of reflections near the open microphones improved gain before feedback, especially with a wireless lavalier system.
The sound system was upgraded using a small centre cluster for the front 2/3 of the room, with delayed infill speakers provided for the rear 1/3 of the seats. Using the computer model we found that it was not possible to get uniform frequency response in the rear of the room from the centre cluster since the theatre is quite deep and steeply raked.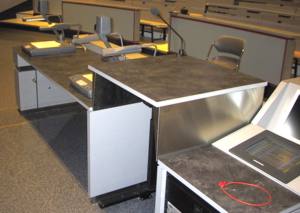 2004 lectern with dual document cameras and new control panel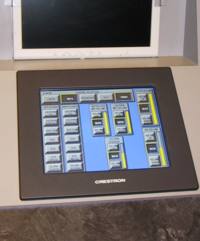 In the summer of 2004, the room had an AV upgrade to accommodate dual video projectors, with extensive modifications of the original projection cabinet, dual fixed projection screens, dual document cameras, and an upgraded lectern that was smaller and more functional for the instructors. The original Crestron control system was upgraded and most of the video switching and routing was replaced.
Several pieces of the 10 year old sound system electronics were also repaired or replaced as part of the renovation.
The AV contractor was Matrix Pro Video of Vancouver.



The original 1994 project was done while we worked for BKL Consultants between 1991 and 1997.