Home Theatre and
Listening Rooms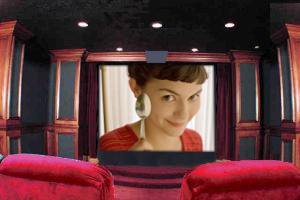 We do design home theatre sound and video systems, primarily dedicated home theatre rooms with fixed theatre-type seating. It's not that we can't design smaller systems, but quite frankly our design fees become a sizable percentage of the total budget on small systems. We can offer cost effective Audio and Video system design services where the equipment budget is greater than $50,000, allowing competitive bids to be solicited from home theatre installers.
We provide acoustical design for home theatre and listening rooms, primarily working with interior designers or the home theatre systems contractor. In new construction, we are able to provide guidance on: room dimension ratios, optimum listening position, wall and floor construction, HVAC requirements, as well as interior finish materials and their effect on acoustical performance.
In renovations or installations in existing rooms, we are able to help optimize the performance of the theatre or listening room within the limitations of the existing structure. We help identify the critical issues that will affect room modes and bass response, imaging and localization, and noise transmission and noise intrusion. Most importantly, we can identify the limitations in isolation so the client expectations can be realistic. We have also been asked to assist the home theatre system contractor in optimum selection of loudspeaker components to achieve the required performance.
Whether the room seats 2 or 20, a sizable investment in home theatre audio equipment can be wasted if the room's acoustical performance won't support the system's capability. Where budget or construction limitations restrict the extent of acoustical treatment that can be incorporated, we can help prioritize the elements so that the best available performance is reached within the available budget.
Systems Contractor News Article - How to Be an isolationist
Try the JavaScript Room Modes Calculator in English Units or in Metric Units
Try the JavaScript Reverberation Time Calculator in English Units or in Metric Units
Findo out more about the home theatre market: CEDIA - Custom Electronic Design & Installation Association