Main Page

Design Staff

Design Services

Project List

Audio Demos

Useful Calculators

All over the map

Site Map




Langara College, Science & Technology Building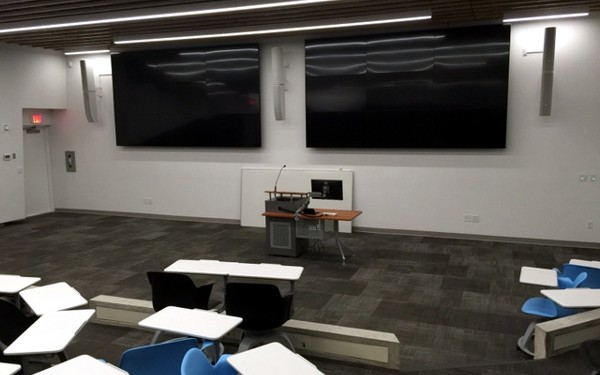 We provided AV systems design services to Langara College, for the construction of the new Sciences and Technology project, a five storey, 130,000 square feet, multi discipline teaching & learning building, housing state-of-the-art biology, chemistry, physics, astronomy, and computing science labs, as well as a lecture hall, multi-purpose classrooms, and collaborative study spaces. Additionally, the new S&T building also accommodates the Nursing Simulation training Centre.
Working with the Langara Facilities Planning and the IT department, Mc2 developed a conceptual design report and capital cost estimate for the required Audio-Visual systems, based on the specific performance, functional and operational requirements for the teaching and learning support AV systems. Upon approval of the AV budget we worked closely with the project design team, designing the AV systems specific electrical infrastructure, power, cooling and architectural requirements for integration with the base building drawings and specifications. Working with the project building acoustical consultants, Mc2 provide the specific noise isolation, room noise and room reverberation time targets required for the teaching spaces to function as required and provide good speech intelligibility while maintaining privacy between adjacent spaces.
The noise isolation requirement, (privacy) between spaces using amplified sound such as lecture theatres, classrooms and simulation training teaching labs is much higher in comparison to regular office spaces, and is often underestimated, which may result in the need for significant effort and cost to retrofit after construction is completed.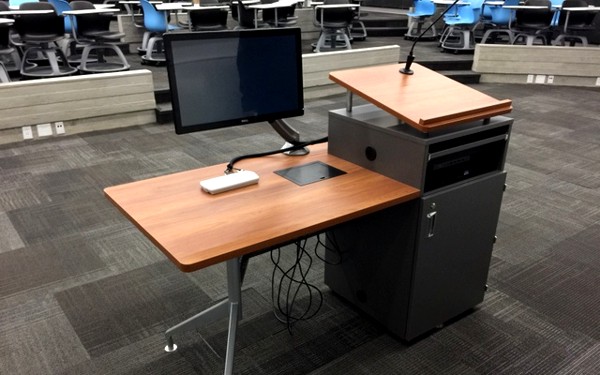 The new S&T building was completed in time for the beginning of the fall semester in September of 2016, with the exception of the Nursing Simulation training centre, which was scheduled to be operational by February of 2017. The S&T building includes the following spaces equipped with state of the art A/V teaching and learning support AV systems
One 100-seat lecture theatre; equipped with dual screen A/V Presentation system, making use of two side-by-side, thin bezel video wall based 141" diagonal image sized displays, Langara standard type teaching lectern, and AV control system with a lectern mount control touch screen, making use of a standardized control user interface. The audio system, designed to accommodate both playback audio and sound re-enforcement using lectern based gooseneck and wireless microphones, is making use of two front wall mount, passive line arrays speaker system and a sophisticated digital sound processor.
Eight Meeting and collaboration rooms; equipped with wall mount displays, table based hard wired digital and analog video and audio inputs and wireless collaboration capabilities.
Twenty-four Classrooms and teaching labs; The typical classroom and teaching labs were equipped with dual screen, short throw projector based, AV presentation and teaching systems, making use of the new Langara standard lectern and AV control system user interface
The Nursing Simulation Centre, consisting of six nursing simulation theatres with adjacent observation and control rooms were equipped with state of the art medical observation, monitoring, presentation and capture and de-briefing systems.
Mc2 worked with the Langara College stakeholders and IT department to develop a new, standardized, AV control system user interface based on their specific requirements and usability standards to provide the users with a common, easy to use, control user interface throughout all of the teaching spaces equipped with AV Presentation/teaching systems. The AV control user interface was developed working closely with the operational support staff with a focus on ease of use, to minimize the required AV systems operation learning phase.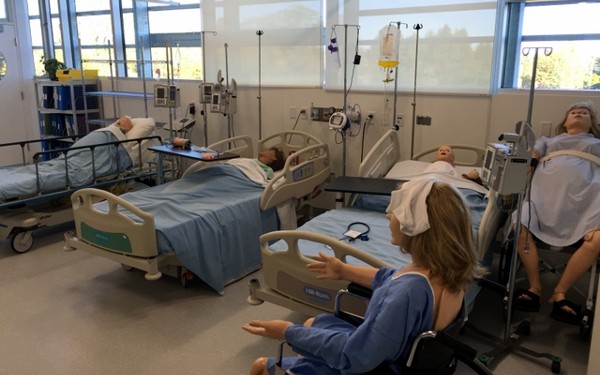 The nursing simulation centre teaching labs are multifunctional teaching labs and required the integration of active and passive human patient simulators, both older legacy, and newer, current models, with a wide variety of connectivity interfaces. The teaching labs required the integration of the three common medical simulation teaching modalities; human patient simulators, standardized patients (an actor pretending to be sick) and the confederate scenario (a doctor or nurse acting). Often the three typical scenarios are used in combination for specification simulation training sessions. The Langara College nursing simulation Centre is used both for the regular school of nursing program, and the BC NCAS, or nurses assessment program, to assess nurses who are coming from abroad to work in BC.
The medical capture and de-briefing systems had very specific functional and performance requirements, to be able to accommodate both the regular school of nursing requirements and the NCAS requirements. As off-the-shelf, high end medical capture and de-briefing systems were simply unaffordable, both from a capital and annual service fee cost perspective, while offering features Langara did not require, while lacking specific features and functions required to meet both the regular nursing and NCAS program requirements, Mc2, Langara AV-IT and Extron Electronics worked together to develop a customised capturing and debriefing solution making use of existing Extron hardware and software components, providing a customized solution able to meet the Langara requirements, including the capture of patient simulator vital sign and session user data, at a fraction of the capital and annual support cost of typical high-end MCDS solutions.