UBC Faculty of Law at Allard Hall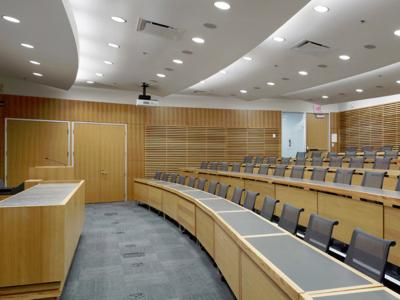 We provided audio/visual design services to UBC Properties Trust for the new Faculty of Law building at the University of British Columbia.
The building has three 100 seat lecture theatres, one of which is used for Moot Court events, and four 50 seat classrooms, one of which is fully equipped for distance education. There is a large forum with retractable seating so it can be used for large presentations, or for flat floor events. There is also a faculty boardroom with video conference capability that is also used for smaller distance education classes.
There is an HD camera at the rear of each of the rooms that can capture a wide or tight shot of a presenter for recording/streaming or as an overflow feed to the other classroms. All the rooms are connected back to a central equipment room with a central switcher, control and monitoring of the rooms.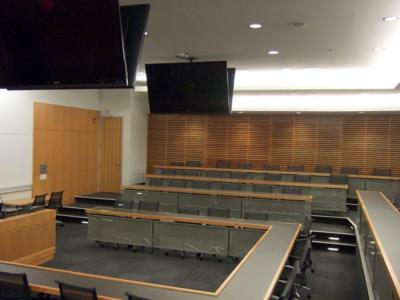 The Law Forum is a multiuse space in the Allard Hall building. Fitted with pull out bleacher seating, the room can be used as a flat floor space for receptions or as a presentation space for guest speakers. The activities in the forum can be captured or sent to the 100 seat classrooms for overflow capabilities. LCD video walls were needed for this space as there was no location to mount projectors. The LCD video walls have the added advantage of being able to be used without blackout blinds.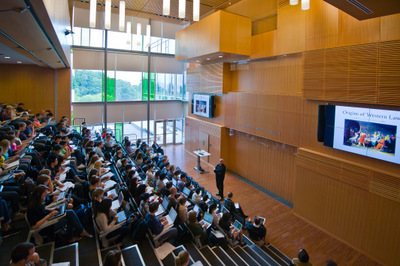 A/V Contractor: PJS Systems Inc.