UBC MacLeod 228 Classroom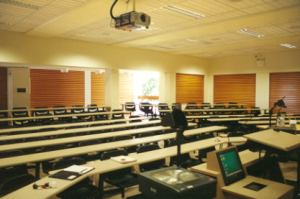 We provided acoustical and audio/visual design services to B. Gordon Hlynsky Architect Inc. for the renovation of the 100 seat classroom in the University of British Columbia MacLeod Engineering Building. Part of an ongoing classroom upgrade program, the classroom was changed from a flat floor long-axis classroom, to a tiered classroom with the seating plan changed to short axis. This provided better sight lines and closer seating to allow unaided speech to be better understood.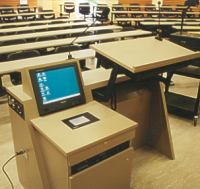 The room is equipped with the first of a UBC standardized lectern integrating A/V support equipment directly into the design, while accommodating handicap access adjustment. The room also has a wide electric screen to support side by side OH projectors as well as the ceiling mounted video projector. The room is equipped with a distributed ceiling speaker audio system for playback of A/V sources, plus speech reinforcement. The room is equipped with an FM type listening assist system.
The room acoustics were also improved significantly, the unoccupied midband reverberation time was reduced from approximately 1.0 seconds down to 0.5 seconds, well in-line with current standards for hearing impaired accessibility requirements. More significantly a major problem with a boomy low frequency reverberation time of 2 seconds was brought to more reasonable 0.8 seconds. The faculty are very pleased with the new classroom environment, and the A/V support systems.
A/V Contractor: WCS Professional Ltd.