Port Coquitlam Council Chamber A/V System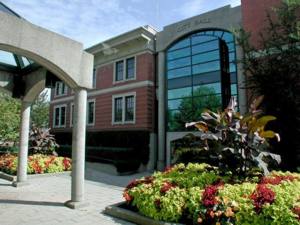 McSquared designed the replacement AV system in the Council Chambers of the City of Port Coquitlam City Hall. The A/V system was installed in 2002.
The audio system upgrade included the replacement of microphones and the automatic microphone mixers and signal chain components. Individual mute switches (push on/push off) for each microphone station were provided, with the exception of the lectern microphone which can be activated/de-activated by the mayor and/or clerk. The mayor and clerk also have the capability of remotely muting all the audio within the chamber and muting the outgoing press and Shaw cable feed. The microphone muting system makes use of LED indicators on the switches as well as lighted collars to clearly indicate to each person which microphones are active.
A dual channel AGC was installed to separately process the press/Shaw audio chain and gallery audio chain. The press feed has more dynamic range compression than the local audio. The local audio also has a combined equalizer and feedback killer.
The ceiling loudspeakers were replaced by new units, to provide improved gallery coverage and fidelity.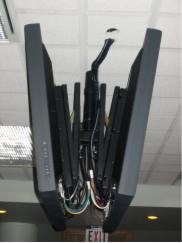 The Council Chambers has two plasma display devices, ceiling mounted back-to-back on a single post to provide visual coverage for the gallery as well as the councils desks. The system has two input computer interface located at the main podium location, with an auxiliary AV input on it.
Two additional single input computer interfaces are mounted at each of the clerk's and staff desks. All computer interfaces are connected to the main RGBHV switcher located in the existing AV rack just outside the council chambers.
The 2 separate video and RGBHV switchers are mounted in the existing AV rack, and are controlled by the A/V control system. Due to the relatively short distances all signals are transmitted over standard RG-59 coaxial video cable.
The control system makes use of a wired greyscale 6? touch panel with connections at the clerk?s desk, a secondary connection at the mayor?s desk as well as a connection at the lectern. The system controls the functions of the plasma displays, video switching, video sources, audio levels, and video recording.
AV Contractor: Emergent Systems Inc.