Main Page

Design Staff

Design Services

Project List

Audio Demos

Useful Calculators

All over the map

Site Map




UBC Faculty of Medicine
Distributed Medical Program
Technology Enabled Learning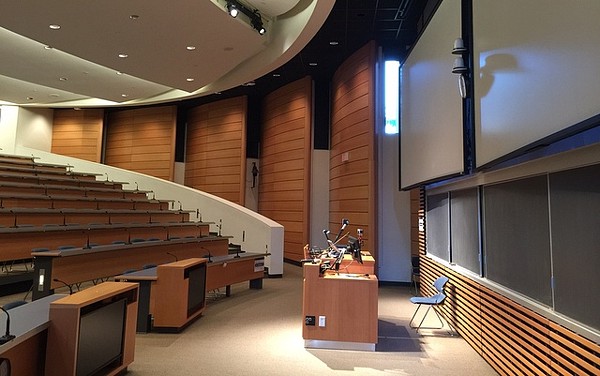 UBC Faculty of Medicine, Distributed Medical Program, Technology Enabled Learning, Capital Renewal of the academic campuses at UBC Life Sciences Centre, UNBC, Northern Health Science Centre, UVic, Medical Services Building. 2008 - 2017
The AV systems located at the medical centers at each of the three university campuses in Vancouver, Victoria and Prince George were/are due for renewal requiring being replaced/upgraded to meet the current performance, functional and operational standards for the UBC, FoM, distributed medical program. The lecture theatres, the gross anatomy labs, the histology teaching labs and the central Technology office AV system required for the distance education enabled AV systems to include the following capabilities:
Maintain operational reliability target of 99.5%
High definition minimum 720p, and standard 1080p A/V system wide resolution based videoconferencing;
Dual Visual Presence (DVP); the ability to share two camera images from the same site as part of the main videoconferencing channel (A variation of the technology known as Telepresence);
Ability to integrate high resolution, digital video signals from computer and other video sources;
Ability to emulate Equipment Identification (EDID) between source and destination devices;
To be fully Digital Rights Management Compliant and handle content protected sources and content
Audience push-to-talk microphones at all sites;
Future-ready fibre optics based AV signal routing and distribution system/infrastructure;
Control systems graphical user interface and advanced AV systems control and monitoring capabilities;
Advanced digital audio signal processing and digital audio signal routing and distribution;
High definition, 16:9 aspect ratio based display systems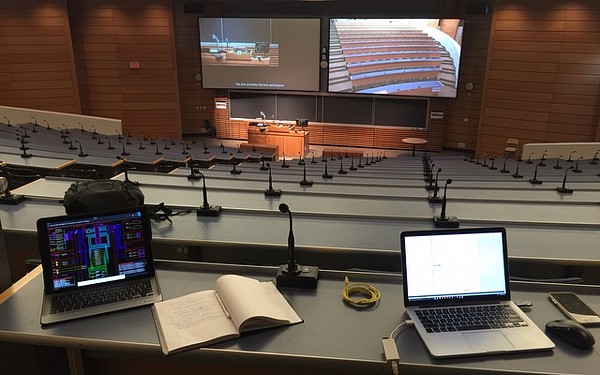 McSquared, as the A/V technology design consultant of record started working on the distributed medical program in 2002, and our work with the UBC FoM Capital project team is ongoing. Below is a list of some of the key milestones:
Development of prototypical A/V systems design, setup, testing and conduct of prototypical testing of distributed teaching and learning model at three university sites, 2002
Conduct usability studies and specific technology testing sessions, 2002 - 2016
Development of A/V and network topology and control system user interface design for initial distributed medical program university sites in Vancouver, Prince George and Victoria, 2003/2004
Development of A/V technology and room criteria standard guidelines for the different types of teaching and learning modalities and spaces used as part of the distributed medical program, ranging from 350-seat lecture theatres, to gross anatomy teaching labs and clinical seminar rooms, 2005
Design development of MPAACT Clinical sites, starting with the DHCC clinical academic campus located at Vancouver General Hospital, 2005/2006
Innovation, prototypical testing and design development of new dual visual presence (DVP) and automatic video switching (AVS) standards, a technology and videoconferencing methodology currently know in the market as Telepresence, making use of two videoconferencing CODEC's, to achieve the ability to share two camera images from the same site as part of the main videoconferencing channel (A variation of the technology known as Telepresence); 2007-2008
Digital and HD technology based A/V and VC Standard guidelines development, including digital fibre based video routing and AV signal transport format testing,; 2009
Design development of fourth university site academic campus AV and VC systems for the Health Sciences Centre located in Kelowna, BC, 2010
AV and VC Design development of major clinical campus new facilities, distance education enabled systems at ST Paul's Hospital and Surrey Memorial Campus; 2011 - 2013
Development of distance education enabled medical simulation systems AV standard guidelines and clinical campuses at VGH CESEI, Royal Jubilee CAC in Vancouver & Kamloops, 2012 - 2013
Concept of flipped lecture concept Usability design study, in-situ testing, acoustic modelling and reporting; 2012
Innovation, design development and proto-typical testing of flipped classroom modality adjustable table systems; 2013
Design development of first flipped lecture modality based distance education enabled AV & VC technology clinical campus at UHNBC, Prince George, BC; 2015
Capital renewal of university and clinical hospital site distance education enabled AV/VC systems at UBC, UNBC, UVic; 2014 - 2017
Development of new VGH, CESEI, distance education enabled medical simulation training and education campus; 2017/2018
AV Contractors; PJS Systems, Genesis Integration
Click on this link for a more detailed article on the distributed medical program scope of work.