Surrey Family YMCA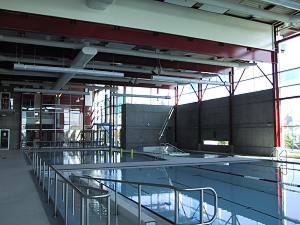 The Surrey Family YMCA in Surrey, BC., combines a large indoor aquatics recreation facility with a fitness centre, gymnasium, running track, youth, meeting and multi-purpose rooms and a chapel under one roof. We provided the design for the multi-zone sound systems for the facility.
The pool area makes use of large and medium format horn loaded loudspeakers with a single 12" LF driver and a coaxial HF horn. These devices provide good intelligibility in the large spaces of the pool without being obtrusive. The fibreglass construction is inherently moisture proof, eliminating the concern for waterproofing and long term maintenance.
The fitness area makes use of high quality ceiling speakers to provide good quality music playback capability over the fitness area. The system has eight separate zones to allow level adjustment for use near cardio equipment that may generate different noise levels. There are two source selectors that can be assigned to the eight zones so that one area can receive music while the area in front of the TV's could receive TV audio.
The main paging station is at the reception desk in the lobby, along with main background music sources. The lifeguard station in the pool area has the local control rack and the music sources for the pool area located in the dryside.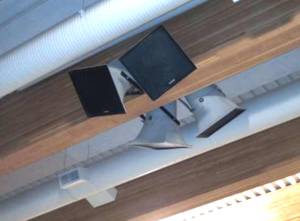 The gymnasium has separate music and speech loudspeakers optimized for those applications. The system is designed to support the gymnasium being spilt in half for two different events.
The two multipurpose rooms have the ability to support aerobics classes, dance classes etc. with a sound system to support music playback and a headset microphone for the instructor.
The two meeting rooms have a movable wall that allows them to operate independently or as a large combined meeting room with combining of the sound systems.
For more information on the facility and activities schedule, visit the Surrey Family YMCA website