Main Page

Design Staff

Design Services

Project List

Audio Demos

Useful Calculators

All over the map

Site Map




Evangelical Chinese Bible Church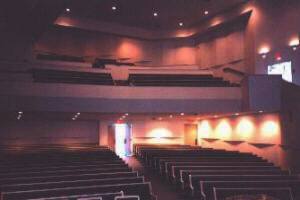 We provided both acoustical and sound system design for the Evangelical Chinese Bible Church in Burnaby, BC. The church has a 1200 seat sanctuary with the 0.8 second midband reverberation time optimized for the amplified music ministry that the church enjoys. With upholstered pews and carpet in place, no additional absorption was needed to meet the reverberation time criteria. The client did not want a room that was overly dead for the congregation to sing in, so we had to use diffuse surfaces, rather than absorptive materials to eliminate late reflections from the back walls and upper balcony corners that would have been distracting at the pulpit. The angular room shape lent itself to the angled diffuser pattern chosen through discussion with the architect.
With 800 seats on the main floor and 400 in the balcony, uniform coverage of the sound system was very important. The system has a mono horn/box centre cluster for speech reinforcement and a stereo horn/box music reinforcement system. The 75' deep room and 30' high ceiling required the use of a delayed above-balcony fill system that serves for the speech and music signals. The balcony fill system can be expanded at a later date with a delay matrix to provide full stereo imaging in the balcony. The stereo sound field is maintained over the 90 degree fan shaped seating by incorporating left and right "stinger" in-fill speakers flanking the centre cluster. The stingers are fed a delayed signal to align with the sound from the left and right clusters, extending the effective width of coverage for each cluster. Two 18" subwoofer systems provide solid 40Hz capability. The loudspeaker systems are all located behind grilles in the angular coffered ceiling, with no visible loudspeaker devices. A 32 input, eight buss DDA console with matrix outputs provides the maximum flexibility for the house sound mixer. The stage platform is pre-wired for multiple locations for musicians and instruments, including in-floor stage monitor cabling.
The facility also has a 150 seat chapel, a gymnasium, and a school facility, all of which were pre-wired for sound systems and paging which will be added as funding becomes available.
This project was done while we worked for BKL Consultants between 1991 and 1997.