UBC IRC #6 Lecture Theatre Renovation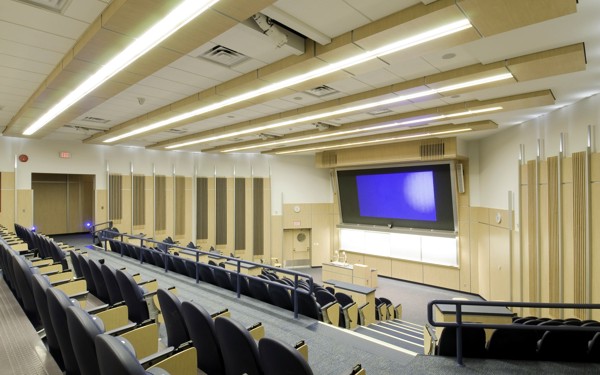 We provided acoustical and audio/visual design services to Maples Argo Architects for the renovation of the 181 seat Instructional Resource Centre Theatre #6. The original room design dates back to 1975 and was in need of upgrades.
This was a comprehensive architectural upgrade that allowed an upgrade to the room acoustics and change in the AV system configuration to modernize its capabilities.
The reverberation time was shortened by 0.15 seconds to improve intelligibility of speech and help reduce student generated noise. The upholstered seating was replaced to maintain the acoustical value of the seating. Additional wall and ceiling absorption helped tune the acoustical qualities of the room.
The AV system features a pair of rear screen video projectors for side by side dual images, plus a 3rd centre mounted rear screen projector for widescreen DVD film presentation. There are also two motorized drop down screens for conventional overhead projector use.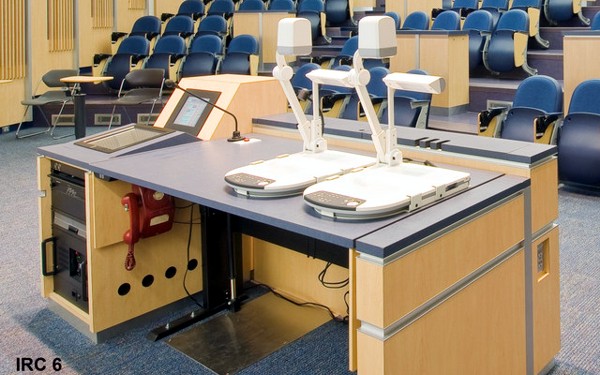 The lectern is equipped with a pair of HD document cameras to provide the display capability of paper sources to this and other IRC theatres. There are HDMI and XGA inputs that can be used locally and as overflow feeds available for use in this and the other IRC theatres, routed through the AV Master Control Room.
The audio system is equipped with a DSP to provide all the audio processing, plus acoustic echo cancelling to allow this room to be interlinked to other IRC theatres or used for distance education. Full duplex interaction is possible which enhances the experience for overflow participants.
The speaker system has an AV playback speaker system by the screen at the front, and ceiling speakers are used for speech reinforcement.
The control system can be operated using the touch panel or remotely through e-Control so that the AV technicians can support much of the teaching from the Master Control Room, especially handy for visiting teachers.
During the summer of 2012 the lecture theatre AV system was upgraded again to accommodate a new HDCP compliant digital video switching system including new HD cameras and fiber connections back to IRC Master Control.