UBC IRC Master Control Renovation
We provided audio/visual design services to the University of British Columbia for the renovation of the Instructional Resource Centre Master Control Room. The original MCR AV control room design had been partially updated since 1973 as IRC #2 and #6 were upgraded, and was in need of upgrades to add HDCP compliant digital video switching and routing, and more advanced controls and production for streaming feeds and overflow connectivity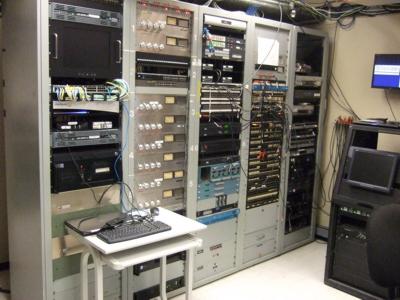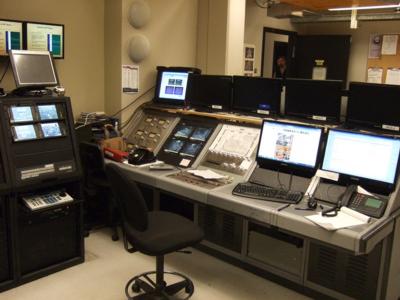 before the summer 2012 renovation
This was a comprehensive architectural upgrade that allowed an upgrade to the AV system configuration and layout of the control room. The old equipment and racks were removed, and years of cable accumulation in the cable trays were removed. The old racks were freshly powder coated and reconfigured in a much more compact arrangement. All six theatres are now fully interconnected for audio and video overflow, or class recording/streaming. Each theatre is now fully equipped with digital video and new audio DSP for Cobranet connectivity back to Master Control.
The new 32x32 digital video switcher accepts inputs from each theatre over fiber, and makes those signals available to other theatre or to the streaming recorders. Panasonic HD cameras and a network camera controller operates the front and back cameras in each theatre. Monitors for each classroom and a pair of program monitors allow the operator to route cameras or content as required.
The audio system is equipped with a Cobranet based DSP to provide all the audio processing, to allow all the rooms to be interlinked or used for distance education. Full duplex interaction is possible which enhances the experience for overflow participants.
The control system for MCR and all six theatres can be operated using the touch panel so that the AV technicians can support the teaching for each theatre from the Master Control Room, especially handy for visiting teachers.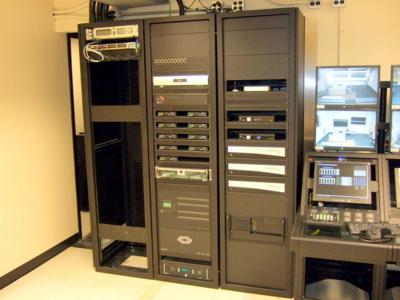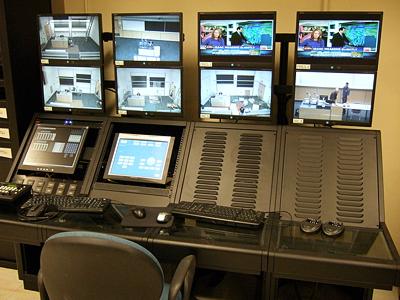 After the summer 2012 renovation
Information on IRC Theatre #2
Information on IRC Theatre #1, 3, 4, 5
Information on IRC Theatre #6